Practice Areas
The Sharp Firm
Attorneys at Law
3307 Northland Dr.
Suite 470
Austin, Texas 78731
1.800.845.6550
1.512.407.8800
Email us
Austin Truck Accident Lawyers
Nationwide, there are over 3,500 fatalities and 60,000 injuries, each year, from passenger vehicle collisions with heavy-duty trucks. Truck accidents are one of the leading causes of death for Texas residents, and serious injuries involving back and neck whip-like movements (sometimes called whiplash, soft tissue injury, connective tissue injury, or facet joint injury), head and brain injury, spinal cord injuries, loss of limb, amputations, loss of senses, and other catastrophic results, including wrongful death , are all too common.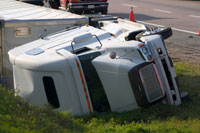 The number of large trucks traveling on major highways is increasing every year. Because truck companies and truck drivers are motivated by profit, safety concerns often diminish and other drivers suffer the consequences. This is true for any truck accident or truck crash involving a semi- truck, 18-wheeler, big rig, or even the neighborhood garbage truck. Despite rules enacted by the Department of Transportation, truck drivers often drive too many hours without the proper amount of sleep. To get around these regulations, some truck drivers falsify travel logs and fail to properly maintain their trucks and trailers.
Our Austin truck accident attorneys handle semi-truck and 18-wheeler crashes and collisions throughout the State of Texas and the Austin metro area. Since semi-truck and 18-wheeler accident cases present unique issues not associated with a typical car collision or motor vehicle accident, an Austin truck accident attorney should be contacted for correct legal advice. These differences include:
Federal Motor Carrier Safety Regulations - federal regulations and safe operating requirements for commercial truck drivers, common carriers, vehicles, and truck equipment.
Hazardous Materials Regulations - federal regulations and safe operating requirements for the safe and secure transportation of hazardous materials, proper packaging, employee training, hazard communication, and operational requirements for truck drivers and truck companies.
Hours of Service - federal regulations regarding truck driver alertness and fatigue-related accident.
State and Federal Rules - Texas truck safety regulations, truck licensing requirements, and truck insurance requirements.
Corporate Liability - negligent hiring, supervision, and truck maintenance claims against truck companies.
Our Austin truck accident lawyers understand the legal and practical problems associated with a semi-truck accident, tractor-trailer collision, and 18-wheeler crash.
To learn what the Austin truck accident attorneys at the Sharp Firm can do to help anyone suffering from an accident or fatality, please contact us today for a free initial consultation.
Contact Us
Tell us about your case to
receive a free evaluation.