Practice Areas
The Sharp Firm
Attorneys at Law
3307 Northland Dr.
Suite 470
Austin, Texas 78731
1.800.845.6550
1.512.407.8800
Email us
Austin Insurance Dispute Lawyers
Coverage Disputes, Denied Claims, Life Insurance, Disability Insurance, Auto Insurance, & Health Insurance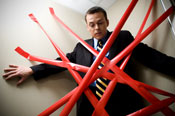 Compelling insurance companies to make good on insurance policies is a special interest of the insurance claims lawyers at the Sharp Firm. If you have been unfairly treated by your health, auto, home, disability, life, or other insurance company, you should seek advice from a knowledgeable insurance claims lawyer experienced in handling insurance disputes. At the Sharp Firm, our insurance claims lawyers have experience aggressively representing people in disputes with their insurance companies in the following situation:

Delays and Stalling - compelling you to accept a smaller claim or no claim at all
Impossible Conditions/Stonewalling - requiring excessive documentation or verification of a claim
Unreasonable Expectations - requiring you to resubmit information/gather new information that has already been established
Adjuster/Estimate Disputes - changing adjusters or requiring multiple adjusters /quotes
Failure to Indemnify or Defend - failure to pay a claim when a judgment is made against a Texas homeowner's insurance policy
Deceptive Practices - making statements that are later contradicted during a claim /claim denial based on incorrect - incomplete information on original policy application
Fraud/Misrepresentation - including evaluations, appraisals and adjustments
To discuss a denied claim or deferred payout insurance dispute with an experienced insurance claims lawyer, contact The Sharp Firm in Austin, Texas, by phone or email today.
While an insurance company may have a legitimate reason to deny your claim, if you believe you have a valid claim, you should ask an experienced insurance claims lawyer to evaluate your specific situation for you. The Sharp Firm has resolved many insurance coverage disputes in their clients' favor without having to resort to taking their cases to court.
We are committed to providing excellent service to all of The Sharp Firm's clients. Our insurance claims lawyers pledge to protect clients' interests and integrity as they aggressively confront insurer companies who have declined to pay money due to policyholders.
If you or someone close to you has had their insurance claim denied contact our insurance claims lawyers by e-mail or phone.
Contact Us
Tell us about your case to
receive a free evaluation.