Practice Areas
The Sharp Firm
Attorneys at Law
3307 Northland Dr.
Suite 470
Austin, Texas 78731
1.800.845.6550
1.512.407.8800
Email us
Austin Probate Lawyers - Wills & Trusts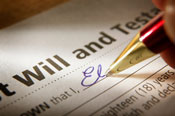 The Sharp Firm's Austin probate lawyers represent individuals and financial institutions in disputes which arise in connection with trusts and estates matters. We handle the client's litigation through appeal. Our Austin probate lawyers represent both fiduciaries, such as executors, trustees, conservators, guardians and attorneys-in-fact, as well as beneficiaries, with the following types of probate and trust litigation:
Will & Trust
Contests
Construction of Wills & Trusts
Claims Involving Fiduciaries
Fiduciary Misconduct
Fiduciary Removal
When representing probate and trust litigation clients, whether fiduciaries or beneficiaries, our Austin probate lawyers seek a prompt resolution to disputes. Most importantly our Austin probate lawyers seek to protect and advance our client's interests and rights. The combination of experience and expertise enhances the likelihood of success for our clients.
Will Contests
The Sharp Firm's Austin probate lawyers regularly represent both heirs who feel they have been unfairly treated in or omitted from a loved one's last will and testament and executors who have a fiduciary duty and obligation to defend a will filed for probate.
There are several basic grounds for contesting the validity of the last will and testament of a testator (i.e., the person making the will).
1. Undue Influence/Duress
An undue influence or duress challenge relates to whether the testator made a will freely without being coerced by another person or persons. For example, a family member or acquaintance might pressure a frail, elderly person to leave most or all of his or her assets to that individual while excluding others who would typically receive an inheritance. Proponents of the will will need assistance in fighting a challenge. An executor is forced to defend the will and needs assistance with resolution of the challenge.
2. Mental Incapacity
Will contests based upon the testator's lack of mental capacity a common type of testamentary challenges. Testamentary capacity typically requires that a testator have sufficient mental acuity to understand (a) the amount and nature of his or her property, (b) the family members and loved ones who would ordinarily receive such property by will, and (c) how his or her will disposes of such property. Simply because an individual has a form of mental illness or disease does not mean that he or she automatically lacks the requisite mental capacity to make a last will and testament.
3. Inadequate Formalities
This challenge focuses upon whether the testator executed his or her will in compliance with Texas statutory law. Generally, at a minimum, a will must be in writing and signed by the testator and two witnesses. Additional formalities may be required depending upon state law.
4. Revocation
When a contestant believes that the will filed for admittance to probate has been revoked by the testator, an argument for will revocation may be advanced. A will (or parts of it) may be revoked by (a) the execution of a new will or of a codicil, (b) a subsequent divorce or marriage, or (c) an express act.
5. Interference with Inheritance Rights
In rare instances, a testator may make a will premised upon an intentional interference with the testator's intent to distribute assets or property. In such cases, the contestant has the burden to prove that the testator's will did not align with the testator's intent.
Members of the The Sharp Firm Probate Litigation Practice Group have extensive experience representing individuals who are challenging (and beneficiaries, heirs or executors who are defending) the validity of a will.
Trust Contests
A trust contest is similar to a will contest. An individual may use a revocable trust, rather than a will, to provide for the ultimate distribution of his or her assets upon death. In other instances, an individual may create an irrevocable trust during life (usually in order to avoid taxes) for the benefit of family members or charities. Like a will, the validity of a trust may be contested (see "Will Contests", above).
Trust and Will Construction
While a trust or will contest is based on challenging the validity of a trust or will, a construction proceeding begins with the assumption that the instrument is valid. In a construction proceeding, one or more parties seek a declaratory judgment from the court to interpret and adjudicate specific language in such instruments. Trust instruments and wills are sometimes unclear, ambiguous or contradictory as to (1) the identity of beneficiaries, (2) the operation of distributive property provisions, (3) the interests of lifetime beneficiaries versus remainder beneficiaries, or (4) the allocation of estate and/or income taxes. In such cases, a construction proceeding is appropriate.
The Sharp Firm's Austin probate lawyers are prepared to review a trust instrument or will to determine a credible interpretation of ambiguous or conflicting language which is most favorable to our clients. This favorable interpretation will then be advanced in court on behalf of our clients. When representing fiduciaries, the Sharp Firm's Austin probate lawyers provide knowledgeable counsel and assist clients with obtaining the court's direction regarding unclear or contradictory instrument language.
Claims Against Fiduciaries
Fiduciary Misconduct
On occasion, beneficiaries or creditors of an estate may take issue with the actions of a fiduciary and make claims based upon the fiduciary's breach of duty, self-dealing, fraud or negligence. Such claims arise not only in the administration of trusts or decedents' estates, but also in connection with conservatorships, guardianships and powers of attorney matters. The Sharp Firm's Austin probate lawyers both defend fiduciaries against which claims are made and prosecute such claims on behalf of beneficiaries and estate creditors.
Fiduciary Removal
Beneficiaries who are dissatisfied with a fiduciary may petition a court to remove that fiduciary. The Sharp Firm's Austin probate lawyers represent both beneficiaries wishing to remove a fiduciary and fiduciaries who are defending against a removal action.
Contact Us
Tell us about your case to
receive a free evaluation.