Practice Areas
The Sharp Firm
Attorneys at Law
3307 Northland Dr.
Suite 470
Austin, Texas 78731
1.800.845.6550
1.512.407.8800
Email us
Austin Day Care and Child Care Abuse Lawyer
One of the most difficult decisions a parent has to make is choosing a day care facility for their child. There are many factors that go into the decision process including reviewing aspects such as:
state day care licensing
liability and insurance issues
location
compliance with state regulation
safe and clean environment
history of past child abuse, accusation of negligence or verbal abuse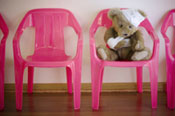 Unfortunately, even after the most careful inspection, a child can be abused and become a victim at a day care center. The Sharp Firm is experienced in the issues parents face when a day care abuse is suspected. Our firm is dedicated to throughly reviewing the situation to determine the best way to proceed on your and your child's behalf.
If you believe your child has been abused at the day care, contact the Texas Department of Family and Protective Services or local child protective services. The Texas abuse hotline is 1-800-252-5400.
The Sharp Firm is available to handle day care and child sexual abuse cases that take place in any setting:
Religious Organizations
Private Schools
Boy Scouts and Girl Scouts
Youth Sports Organizations
If your child has been abused, neglected or otherwise injured at a day care or any setting, it is important that you contact an attorney. Keep in mind there are statute of limitations or time limits controlling when you must bring a lawsuit. To schedule a free consultation email us or call us toll free at 1-800-845-6550.
Contact Us
Tell us about your case to
receive a free evaluation.