Practice Areas
The Sharp Firm
Attorneys at Law
3307 Northland Dr.
Suite 470
Austin, Texas 78731
1.800.845.6550
1.512.407.8800
Email us
Austin Bicycle Accident Lawyers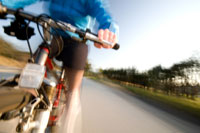 Bicycling has become an increasingly popular pastime and form of exercise. In Texas and across the United States, traffic laws are in place to minimize the risk of accidents between motorists and bicyclists. The often serious nature of these types of collisions can result in devastating injuries or even death. With far less physical protection, the bicyclist is typically at much greater risk than the driver of the motor vehicle. In fact, according to some statistics, a bicyclist is killed every six hours in the United States, and nearly 1 million children are harmed in bike related accidents every year. Of these bicycle accidents, approximately 33 percent involve automobiles; 75 percent of such collisions result in traumatic brain injuries Even the most skilled bicyclist faces significant danger if a motorist fails to share the road in a responsible manner. Fortunately, a Texas bike accident attorney at The Sharp Firm understands the laws that apply to your case and can help investigate your accident and evaluate your potential claim.
Operators of motor vehicles must exercise a reasonable amount of care while on the roadway; failure to do so can result in serious accidents and injuries. Speeding, failure to obey traffic signs, alcohol or drug use, or other reckless acts and behaviors are usually to blame for accidents between motor vehicles and bicycles. A Texas bicycle accident lawyer at The Sharp Firm can help injury victims understand their legal rights. Our team of bike accident attorneys is knowledgeable in the traffic laws regulating bicycle use and is highly skilled in reconstructing accidents, investigating evidence, and building strong cases against those who have caused injury to our clients. A bicycle accident attorney at our firm can help ensure that you receive the compensation you deserve for emotional pain and suffering, medical bills, lost wages, and other costs.
If you or a loved one has been injured in a bicycle accident, we want to hear from you. At the Sharp Firm we will help you obtain all that you are owed under the law and help you formulate a plan for your future. Fill out our online contact form or call us to set up a free consultation.
Contact Us
Tell us about your case to
receive a free evaluation.